Paola Viviana Pantoja Arboleda : From Pasto to Aalst
Publié le 5 novembre 2021
–
Mis à jour le 20 décembre 2021
Born on 30 March 1993 in Pasto, Paola Pantoja began her career in Colombia. She felt the need to complete her studies with a Master of Science, and this led her to ULB. After graduating from Bruface, she decided to stay on in Belgium, where she has continued her professional career as a geotechnical engineer with the Jan De Nul Group in Aalst since September 2018.
From near the Galeras volcano in southern Colombia to calculating the foundations of offshore wind turbines for the Jan De Nul Group in Aalst: this was the journey Paola Arboleda travelled, thanks to Bruface, the programme that finally lived up to her expectations.
What were your motivations for starting civil engineering studies in Colombia, at the Universidad Libre ?
Paola Pantoja: "At the beginning my goal was to become a biomedical engineering professional. But there was no university with biomedical engineering in my city, and my father told me to start out with any form of engineering. So that's what I did. Civil engineering was always my second option in any case, because my father is a civil engineer and since I was a kid I had gone with him to sites and buildings. I used to have a good time with him and all the workers and I would play with the construction tools… I was familiar with the topic (smiles). I then got a scholarship from the university to continue civil engineering… That was my destiny."
- Once you had graduated in Colombia, you immediately began work. What finally prompted you to start new studies in Brussels?
P.P.: "In Colombia I had a good relationship with the professor of geotechnics and when I graduated she suggested I should keep working and studying and offered me a position as a researcher. I was working in my university for some months, and I managed to publish my first article in the newspaper of the Civil Engineering Association in my city. After that, I went to a steel structure company. I worked there for a few months before this master's degree opportunity arose and I decided to go to Brussels! When I was studying in Colombia, I had some friends who did exchange programmes, but mainly in Chile, and this got me thinking that I too would like to study outside Colombia. I really wanted to explore the world more … And I wanted to do it in a way that could build me up as a professional. So the main option was to do a master's degree abroad. When I began to work I started to focus more on that so I applied for scholarships everywhere: the US, Australia, Europe… The one with the programme that exceeded my expectations in every way was Bruface. I applied and fortunately the OEA decided to select me and other Latin American students for a scholarship."
- When you arrived at our university, what were your first feelings?
P.P.: "I was scared (laughs). Because it was a country where I've never been before, with different languages that I really didn't know at all. And it was also a new culture, with new people, a new way of studying… It was quite scary! But then when you go to the first classes you notice a very nice environment. Fortunately we had a lot of students coming from everywhere so it really was an international environment. Everyone was speaking English so you could feel connected with people. At that moment I started feeling like: ok, this is not the end, I will really enjoy this and let's do it."
- Did Bruface keep its promises?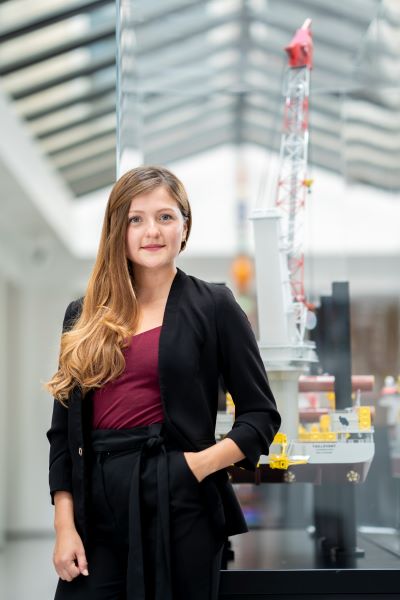 P.P.: "Yes. When I came here, I was looking to explore the world more, and I also wanted a new master's degree that was of a high academic level. I really wanted to find that and I did in Brussels. I immediately noticed the very detailed content of the courses. Professors, laboratories, equipment… everything is at a very high level. You go into things in great depth. I found even more than I was expecting. And I also had the opportunity to travel because it's very easy here to travel to other countries even for a weekend. The location of the university in Brussels is a great advantage. That has given me the opportunity to explore more around Europe. And more: you can find so many international companies here specialising in very different sectors and involved in so many areas. This makes it the right place for any kind of professional. I think that everyone can find something they like."
- You also had the opportunity to go on an internship in Barcelona during your studies.
P.P.: "Bruface offers you an internship in the summer. It was a good opportunity! I found the internship myself. My family has a friend working as a civil engineer in a company in Barcelona. I contacted her and she was willing to give me this chance. The internship program IAESTE (iaeste.org) helped me with all the papers I needed and also to find a place to live when I arrived. We were a little community of students there. I did the internship for three months and at the end a report was sent to the university, which gives you academic credits in the Bruface programme. I got a very good grade and the company even offered to take me back when I finished my master's (smiles)."
- But you finally decided to find a job in Belgium. Was that an easy step to take?
P.P.: "I had a door opened in Barcelona, so I would say it was easy to work in Europe. But I was trying to find a job here, in Belgium, which was not so easy… Previously a Bruface graduate had told me that it takes time, so I started applying about six months before I finished the thesis and everything. I had a lot of interviews and I found out that there are some challenges you need to overcome as a foreigner: the work permit and also the language requirements in the local companies, where you often need to know both of the official Belgian languages. These are two big filters you have to pass through. Fortunately with international companies this is not an issue. Because they know how to deal with applications from foreigners and what to do about the work permit and they tend to work in English, because they need to communicate with other countries."
- How did you end up joining the Jan De Nul Group?
P.P.: "During my studies I went to the job fairs organised by the university to which international companies are invited. I remember the Jan De Nul Group stand where I saw all the videos showing offshore projects and I thought: wow, this is a very big company (smiles)! My friends and I visited their vacancies web page but there wasn't really one that was a close fit for me, so I waited and applied to many other companies. About one month before graduating, I decided to have another look at their vacancies and this time there was one that really matched my profile! I was intimidated because you don't think that they will have a look at all the CVs they receive… But I said let's try it! From there things went very fast. They interviewed me, we communicated a lot and in less than one month they offered me a position starting in September 2018. It was perfect for me: it was the kind of opportunity that I was waiting for in order to grow further as an engineer, because it was a new area, a market that is booming right now and also something that is consistent with my ethics. I was so happy! I do calculations sometimes for the design of the foundations and sometimes for the installation of foundations of offshore wind turbines. I also have tasks relating to the leg penetration of the vessels. And recently there has been a lot of interest in drilled foundations and also floating foundations."
- Do you have any advice for future candidates for Bruface from outside Belgium?
P.P.: "My advice would be to enjoy that time as much as you can, and take the chances that you find. For instance if you have a chance to do an internship, just do it. If you find the chance to belong to the lab teams, go for it. Because all of that is going to give you more opportunities here. The second piece of advice is to keep in mind that this is a higher level. Yes, a different level from the one we were used to. So you have to come here with the attitude that it is going to be challenging and you have to be prepared to hold to the good things. You need to continue focusing on the good things that you have at that moment. And it's going to be very good for you in the end, as a professional and also as a human. Because it's something that really makes you grow up in the right way (smiles). I would also like to inspire all the women dreaming of becoming a civil engineer, this field is also an open opportunity for us!"
Hugues Henry
Photos © Frédéric Raevens
Her Bruface Years (2016-2018)
An international environment
"We were a lot of international students, so we became very close because none of us had very close family nearby. So we became like a family group and we were helping each other all the time. That is one of the best memories."
A high academic level
"The studies were very challenging. I was even close to stopping and going back to Colombia. But in the end you find people that help you, and support you and the ones that love you encourage you to continue, they make you see the good side and say just hold on!"
What's an engineer ?
"An engineer is someone who has a passion for outcomes and who will use all means to find his or her way there."
Focused on problem-solving
"The main tool is of course problem-solving by means of the scientific methods and knowledge learnt through study and at work."